Tomorrow is my birthday, I will be 27 lovely years old.

I really really really hate birthdays because I hate getting old. I'm pretty sure this stems from always hearing my mom not want to turn 30, then not want to turn 40 and even today when I talked to her she was rather annoyed with the age she will be turning this year... LOL so It's instilled in me to hate getting older!

Anyway, Mom called me Monday all excited telling me about the package she was sending me for my birthday, she was all proud of what she had gotten and was very excited to send it off and for me to get it. If Mom still lived here I would have gotten these gifts long before my birthday cause the woman can't keep things to herself, lol, but since she moved away to PA she's been much better about hiding them! LOL (I would always have a knack for finding my presents weather birthday or Christmas and it always ticked her right off)

Anyway, I received her package today right before I went to lunch with Kimberly (who was born on the same day as me, in the same hospital, of the same year!.... so weird)

I rushed to open everything.... all my gifts were in a gift bag and individually wrapped in paper with words on it like... Wonder, Dream, and Love.... which is super thoughtful of Mom since it takes a lot of all three to start a business....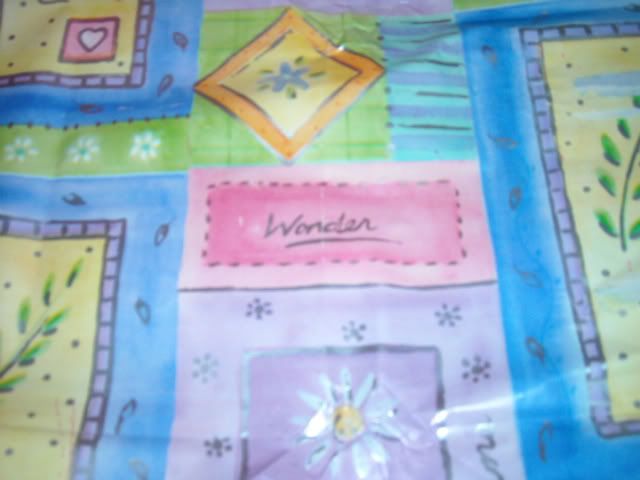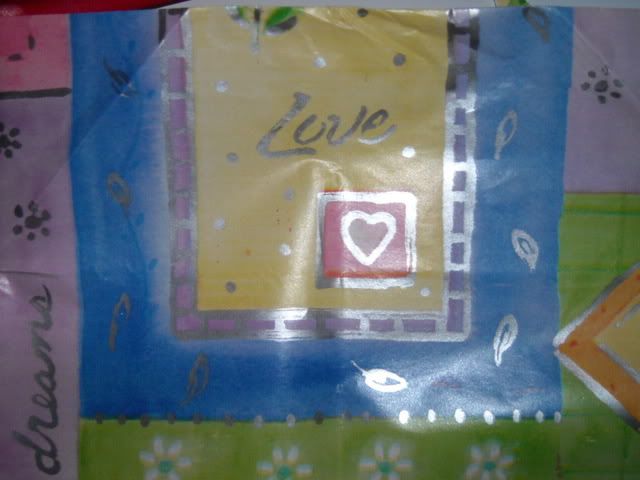 And each gift was hand picked by Mom to be very very thoughtful from my little shower set here that has a peticure brush and stone in it...



You think it's Vera Bradley but nope look closer.... closer! do you see it yet??? M-I-C (see ya real soon) K-E-Y (why because we like you) M-O-U-S-E!!!!

Yes... I'm a dork



I got a magazine with Ty Pennington on there... Mom knows I had a crush on him a while back and I love love love doing carpentry work.



She knew I was reading the book P.S. I love you but hadn't seen the movie yet so now I get to see the movie since I finished the book a week or two ago!!! so exciting... the the must love dogs... how appropraite for Wes and I... lol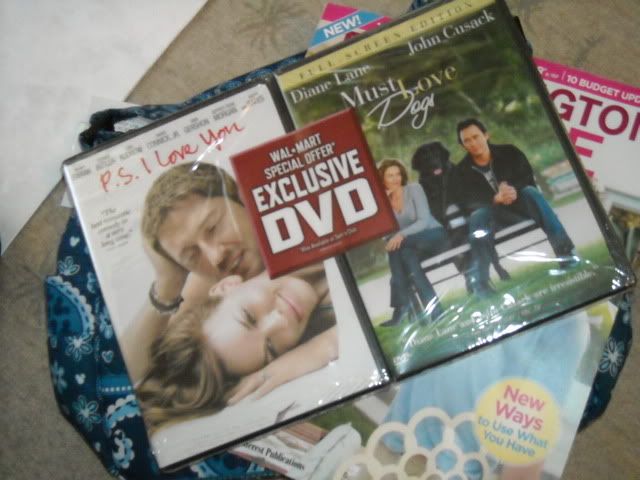 And another book by the author of P.S. I love you!!!! yay!!!!!!



The book had a sweet note inside...



Mom has always been one to pick up things that remind her of us kids.... and in her note she tells me about the $$ she sent in my card to help me get my ring (blog and post about that later) and also things that she's been picking up here and there for months. If she still lived here I'm sure that as she picked these things up she would have given them to me right away because Mom sucks at keeping things a secret. I have the same issue I get it from her I suppose when I find something I know the person will love I want to give it to them right then not wait for the holiday or birthday!!!



This... made me cry... I love love LOVE these movies they are my all time Fav movies all three of them. And when Mom moved she took with her all the VHS tapes... all my disney movies, funny movies everything went with her cause I just wasn't really settled. And we don't watch VHS anymore in fact I don't even know if the VHS player works that we do have... so I have hardly any of the movies that I loved as a kid... and when I opened this and saw it was the collection of all three I broke into tears. My mother is just soooo thoughtful, she's got the little things down and all of these gifts really mean so much cause we are kinda far apart now and we don't talk all that often but often enough to keep in touch, and just knowing what little she did know about my day to day life she nailed all my gifts right on the head! Made me wish she was here to hug her as I opened everything!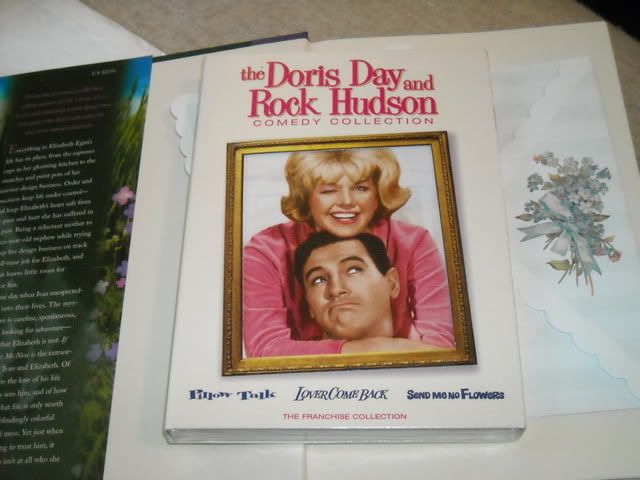 And finally my card... Even down to the card folks! She knows I love fairies.... and my card is sweet and thoughful AND has fairies on the front... this has to be the best set of gifts I've gotten... This birthday has been a pretty good one... and it's not till tomorrow... I hope everything goes good tomorrow and it doesn't get spoiled... lol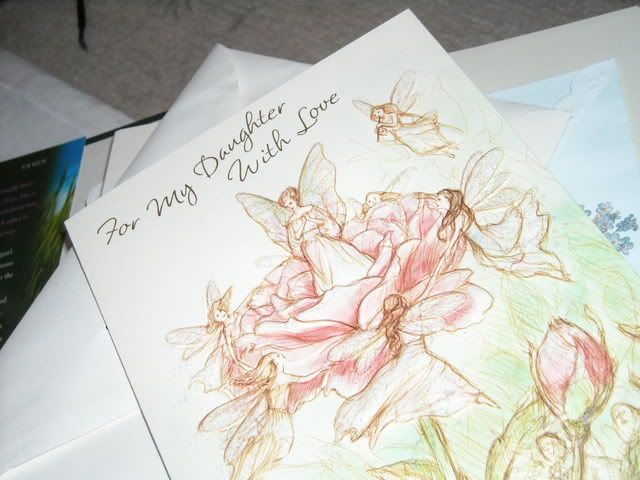 Oh and one last final note... My card is a halmark card... LOL total inside joke!!!! I know none of ou will believe this but when I was growing up I was a bit of a pain the ass! LOL no sugar coating it for blog readers! I wasn't exactly easy to raise or get along with... When I was a teenager Hallmarks slogan was "because you care enough to send the very best" and boy did that get me! So no matter what holiday it was I got everyone a Hallmark card from the Hallmark store, no if's and's or butt's about it! My Mom worked across from the Regency Mall for years where there was a Carlton's cards (I think it that anyway who knows maybe I didn't spell that right) and would get me a card from there... I mentioed the slogan to her once... and I was truly upset that my card wasn't from Hallmark, and from that day forward all my cards weather graduation, birthday, Christmas or just cause from Mom have been from hallmark and on occasion she'll write on the back under the Hallmark logo... "because I care enough to send the very best" LOL!!!!!

Love you Mom!