I received an email from Tracy a couple of weeks ago that said:

"I am a student at the University of Rhode Island and I am in Jacksonville for the summer. I am interested in learning all I can about the business of photography, and I was wondering if you would like an intern or "helper" for the summer. I don't want to be paid, I just want to learn about the industry."

Well my first thought was ummmm ME??? I'm still learning the industry! LOL well I met with her and told her what I'd need as far as help with my shoots and that I'm not sure if experience holding a flash and reflector will help her get an internship in NYC next summer but a free set of hands is ALWAYS welcome!!!

Tracy sat in on my "meeting" with Tara about Ashley and Shawn's wedding and then I asked her you wanna help out, and she said sure... I had her show up right before the ceremony barely said two words to her before it started other than hey, and thanks for coming! LOL I had almost forgotten to call her to confirm the location and time... It was hectic to say the least... She was such a good sport patiently waiting in the wings for me to ask her to do something... she picked things up well, even posed for me to do a couple of test shots!!!

I'm really looking forward to working with her a little, she's so sweet and cute! Here are the "test shots" I took of her during the reception...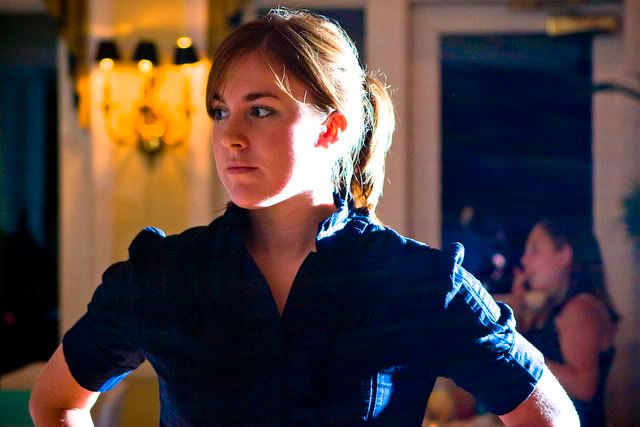 Such a good sport!!!!